DIAGNOSTIC REPORT DASHBOARD
A tab of diagnostic reports will be assembled for you. To access the tab, log into iDialogs and select Reports > Diagnostics. The layout of the tab is as follows.
DIAGNOSTICS TAB

Mobile App Diagnostics Report (top left)

Status Change History (top right)

User Location Log (bottom row)
MOBILE APP DIAGNOSTICS REPORT
This report shows the last time that a specific mobile provider made contact with iDialogs. It shows the user's name, version of the app, operating system and device of the phone, and when they last recorded activity in iDialogs. If you notice an issue with a provider not displaying on the map, please check this report and include the information before reporting the issue to iDialogs.
Below is an example of the report. You can search for a user by employing the User Filter field.
This report is helpful for diagnosing an issue where a provider does not show up on the map and/or the location does not update. If the provider is shown as using an earlier version of the app, the app may need to be updated. For example, if the provider Flo Nightingale had an issue where her location was not updating, you could direct her to update the app to see if that fixed the problem.
STATUS CHANGE HISTORY REPORT
This report shows a recent history of the providers and their statuses. This is similar to the History tab on the map screen, but allows a more complete view. Below are two different images of this report, one with an example of activity from January 14th and one from January 15th.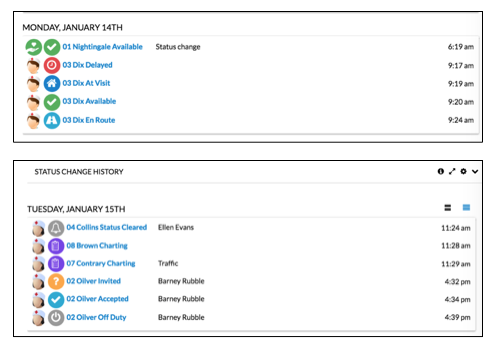 THE USER LOCATION LOG
The User Location Log report identifies the last known location that iDialogs has for a mobile provider. This can also help with troubleshooting. Use the User Filter to search for the last update from a particular provider. Click the Map icon in the user's row to reveal an image of the user's last location.