IMPORT DASHBOARD
The import reports allow monitoring of the data connection between iDialogs and Hospice of Dayton. These reports show if new accounts and other related data are uploaded from HOD to iDialogs in a timely manner and if the VPN connection between HOD and iDialogs is running. To access the tab, log into iDialogs and select Reports > Imports.
The layout of this dashboard is as follows:
Import Dashboard

Organization Import Tiles

Organization Statistics Tiles

Organization Import Time Series

Organization Import Processes

Organization Import Log
THE ORGANIZATION IMPORT TILES REPORT
The Organization Import Tiles report shows whether the HOD IT environment is connected to the iDialogs Maps system and when the last sync occurred. If there is an issue with the connection status, these indicators turn red.

If the connection is broken, an alert email is sent to list of watchers consisting of staff members from HOD and iDialogs.
The iDialogs support desk can also see these tiles when a problem is reported.
This report also shows the number of successful and unsuccessful imports in a selected date range. HOD is supposed to sync with iDialogs every 15 minutes. If you see that the Last Sync is earlier than 15 minutes ago, this is a potential problem that needs to be reported following the process described in this document.
THE ORGANIZATION STATISTICS TILES
The Organization Statistics Tiles Report shows summary statistics on the import process. The tiles displayed show the current numbers for Total Patients, Crisis Priority Patients, Urgent Priority Patients, Routine Priority Patients, Available Providers, and Dispatched Providers. More tiles and analytics will be available in the future.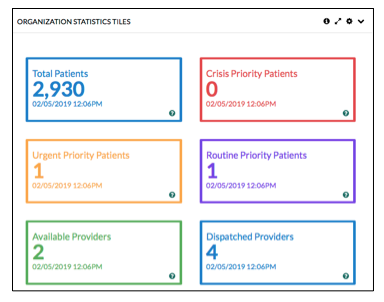 THE ORGANIZATION IMPORT PROCESSES REPORT
The Organization Import Processes report shows a history of the recent imports from HOD. It shows the date and time of each import as well as how many new accounts (patient or provider) were added during the last sync.
THE ORGANIZATION IMPORTS TIME SERIES REPORT
The Organization Imports report shows how many new patient or provider accounts have been imported into iDialogs on a particular calendar day, and how many of those imports were successful. Imports that have an exception usually have an error with address recognition.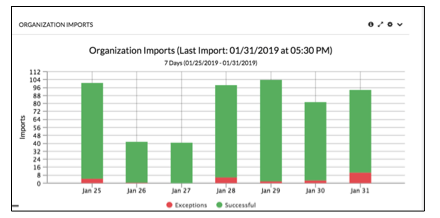 THE ORGANIZATION IMPORTS LOG REPORT
This report shows the addresses that did not resolve in iDialogs. Issues can be fixed by updating the addresses in NetSmart so they will re-import into iDialogs correctly.