There are three main updates in this release:
A server change that will eliminate downtime for subsequent releases.
Updates to our integration with the Google Maps API that will keep costs down by improving the efficiency with which we use the API.
Improvements to the settings that you use to customize your map view. These improvements are described in the section below.
In this release, four tabs are added to the left side of your map. Each tab provides access to settings. The tabs provide an ability to find the relevant setting more quickly. Read on to learn more about each tab.
To view the updates, select the Settings option on the left side of the map.
You will see four choices: Options, Filters, Layers, and Presets.


OPTIONS
Options are choices that apply to your overall view of the map.
Location Expiration: The default location expiration is 24 hours.
Marker Grouping: This selection decides how your map will look when there are multiple icons close to each other on the map.
Clustering is off by default. It will combine icons that are close to each other into one icon with a number indicating how many have been combined together.
The Spider effect is on by default. When two or more icons are grouped together, clicking on the group will reveal a "spider" layout that shows information on the individual icons.
FILTERS
Patient filters
These are choices that determine which patients you will see on the map.
Priority: This is the most important filter to set. It determines whether your map will display patients that are Crisis Care, Routine Priority, Low Priority, and Urgent Priority. It is recommended that you display all of these priority levels on your map.
Activity Filter and Data Filter:These filters apply to patients who are tracking medication and symptom data. Since no patients are doing that, you can leave them set to No Filter.
Focused Care: This filter selects patients with specific diagnoses. This is currently not being used in iDialogs.
Care Request Filter: This filter decides which priority levels of care requests appear on the map. It will be relevant when iDialogs implements appointments and scheduling.
Living: You can sort by whether the patient is Alive or Deceased.
You will also see filters for any fields which have been customized for your organization.


PROVIDER FILTERS
Status: This is the most important filter to set, as it determines which providers you see on the map according to their status. We recommend selecting Accepted, At Visit, Available, Charting, Completed, Declined, Delayed, and En Route.
Specialty: This allows you to filter providers by their specialty or focus. It is not currently in use.
You will also see filters for any fields which have been customized for your organization.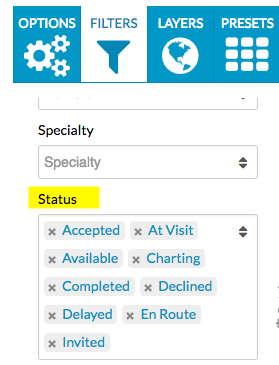 POPULATION FILTERS
These options filter the map by demographics and location.
If you have created custom groups for your organization, these filters will show up here.


LAYERS
Under Map Layers, you can select whether you want to view patients, providers, and custom places of interest for your organization (or any combination of the three.)
Marker Size lets you choose the size of the icons on your map. You may want to select a smaller icon size if you have a large number of patients and providers.

Patient Markers select how the patients display. You can choose a circle shape or a star shape. It is recommended to select a different shape for patients and providers so you can see them overlap when they are together.
Provider Markers let you select how the providers display. You can choose a circle or a star shape. You can also select whether the provider icon shows the initials, the status, and/or the specialty.
Place Markers allow you to set a different size for the place markers than for the rest of the icons on the map. This keeps the place icons from obstructing the view of patients and providers.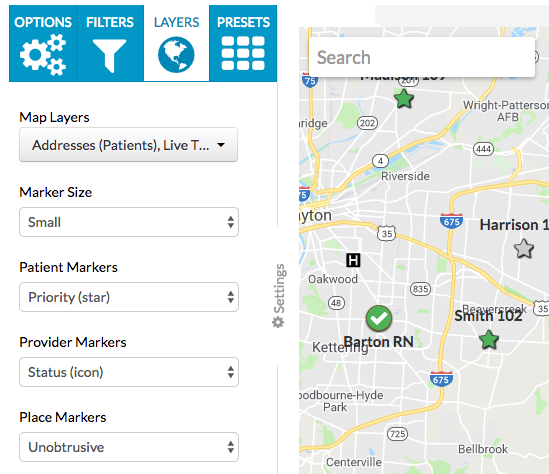 PRESETS
You can set a preset depending on the needs of your organization.
The Dispatch Mode preset is suitable for those using iDialogs to track patient and provider scheduling.
The Symptom Tracking preset is suitable for organizations who are using iDialogs to monitor their patients' clinical progress.